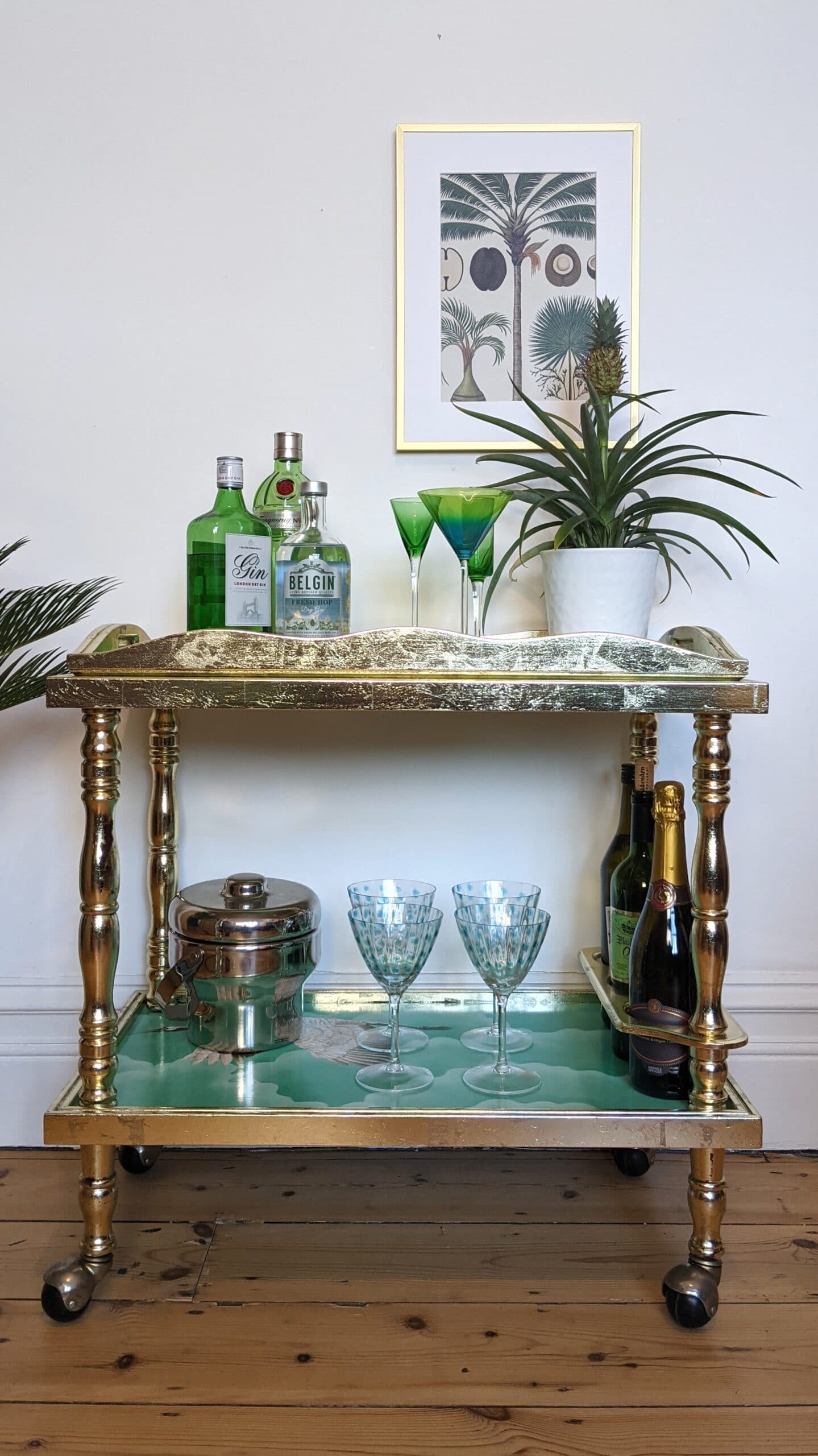 This is Siena – hope you like her!
✨✨✨✨✨✨✨✨✨✨
Siena
A gilded and découpaged drinks trolley with removable tray.
The drinks trolley is now an essential entertaining accessory and the perfect place to display your barware in style. Siena, both strikingly beautiful and eminently useful, elevates the bar cart to a statement piece demanding pride of place in your living space. This wooden trolley has been gilded in a rough luxe style allowing the colour of the wood to show through the textured gold finish. The surfaces have been decoupaged with a bold green paper depicting cranes in flight and finished with layers of protective, wipeable varnish. Includes a lift off tray on the top shelf for easy serving, a bottle rack on the bottom and original castors.
✨✨✨✨✨✨✨✨✨✨
#drinkstrolley #barcart #cocktailsathome #harlequinwallpaper #gilding #gilded #goldleaf #goldfurniture #goldleaffurniture
#barcartstyling #aflashofgold #ihavethisthingwithgreen #mycolourfulupcycle #banthebeige #maximalistinteriors #glamourousinteriors #colourfulhomevibe #colourfulinteriors #colourfiedhomes #mycolourfulaesthetic #crashbangcolour #colourmyhome #thehouseofup #luxecycled #upcycledfurniture #bespokefurniture #uniquefurniture #luxuryinteriorsonabudget #elevatingupcycling #furnitureforsale
[Originally from @WebbAndGray on Instagram]